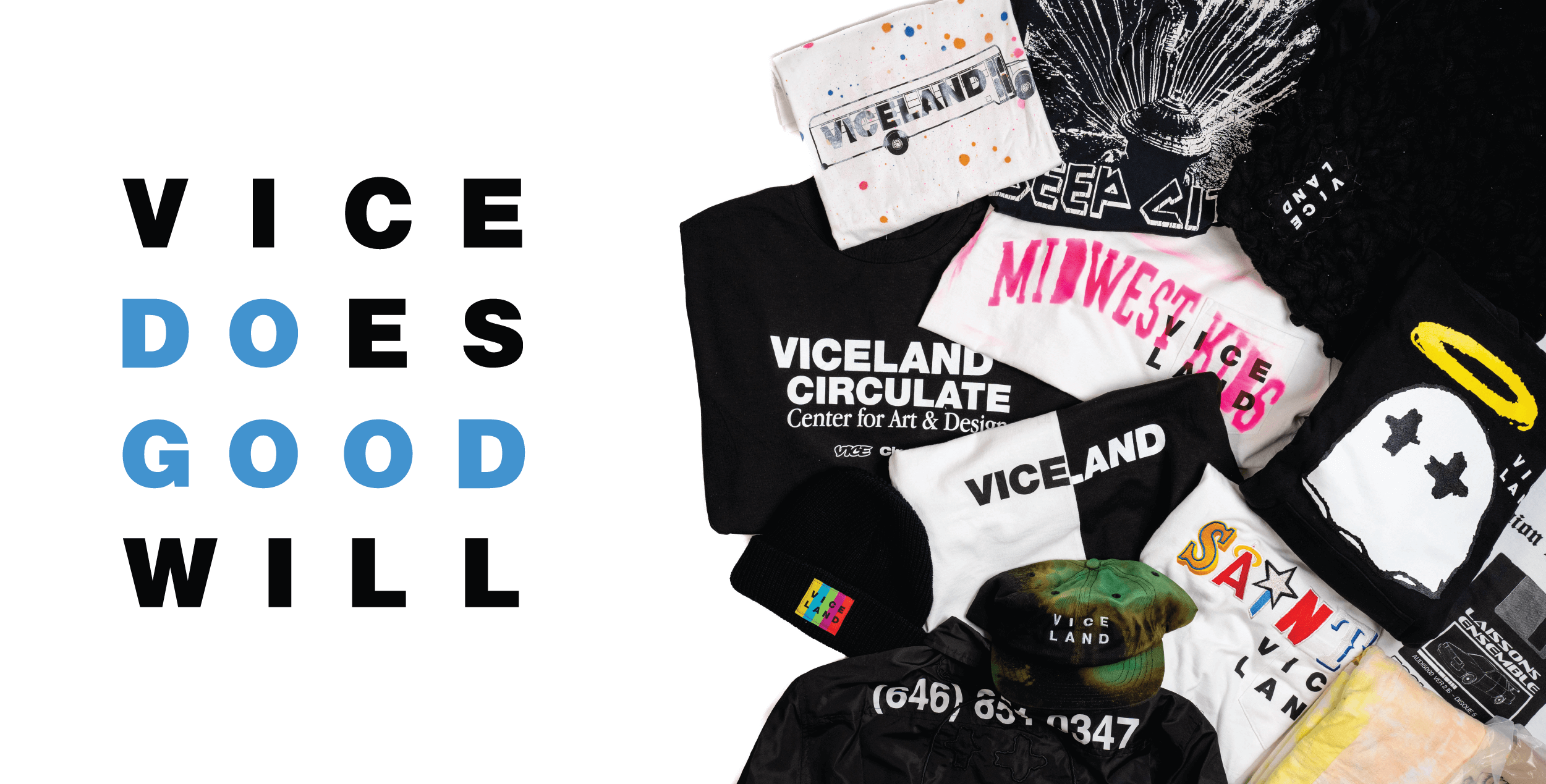 Fashioning The Way Forward
Together with VICE, we've transformed a collection of VICELAND merchandise into a conversation about sustainability for people and planet. In an average year, Goodwill Southern California diverts 130 million pounds of reusable and recyclable items from the landfills and serves 20,000 – 30,000 job seekers in our employment centers. But in a year as unprecedented as 2020, it's important that we continue to center those typically overlooked in the traditional employment process and adapt to meet the needs of the changing jobs landscape.

Reprinted. Redesigned. Reconstructed. We've enlisted 10 designers to infuse their style and perspective into these repurposed VICELAND items, available exclusively online. By amplifying their voices, they elevate ours.
Find your own voice with an exclusive run of VICELAND merchandise at select Goodwill Southern California retail stores. Pick it up, mark it up, cut it up, leave it alone – these items are a blank canvas to make your own.
All proceeds from the sale of the in-store and online collections will go to the Goodwill Southern California Jobs Accelerator Fund, assisting those most impacted by the COVID-19 unemployment crisis with job training, placement, and additional supportive services.  With unemployment numbers not seen since the Great Depression, ensuring accessibility to our services is as crucial as ever. 
We are proud of our community of doers, dreamers and DIYers working together to fashion a way forward.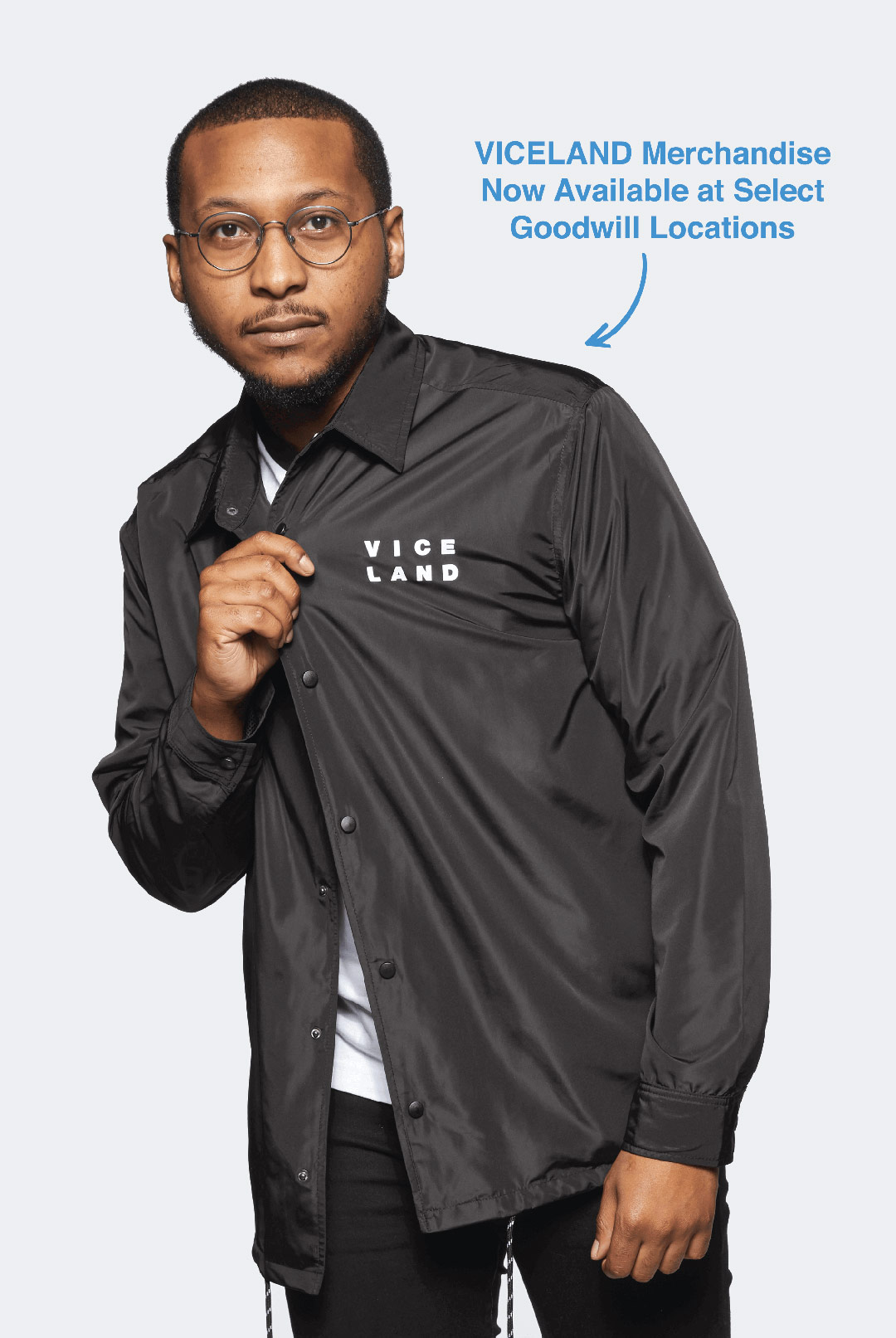 Shop the Online collection
First language shop is run by two ride or dye sisters, born and raised in LA. Hand dyed & made with sustainable fabrics & repurposed items, their work has transformed old VICELAND shirts into a new quilt embodying the #DoGoodwill campaign. 
One side features varying stripes, with each color representing those who benefit most from this fund – youth, neighbors without homes, individuals with disabilities, individuals formerly incarcerated and veterans. The 6th color represents Goodwill SoCal's initiative to weave it all together. The reverse side amplifies sustainability with the use of natural dye, made from avocado pits and skins.
After studying fashion design at Pratt Institute, Brian launched a pop art-inspired t-shirt line in 2003 from his Washington Heights studio apartment. Armed with a dream + an industrial sewing machine, Brian produced one of a kind hand-painted + bleached styles at night while working full-time design jobs during the day. Since the brand's launch in 2007, B WOOD has become known around the globe for its innovative designs, whimsical sense of humor, and creating thought-provoking items that are instant conversation + novelty pieces. With a diverse take on VICE's merchandise, B WOOD's additions to the items speak for themselves.
Caroline Luella of Cozy Floor Coverz has a simple vision: SUSTAINABILITY IS AFFORDABLE AND ATTAINABLE FOR ALL. Through her passion for upcycling and expertise in farming and engineering, her approach to creativity is rooted in the desire to bend the currently linear fashion lifecycle into more of a loop – while keeping it cozy. As a collaborator on this project, Caroline has transformed a massive collection of shirts into one-of-a-kind rugs to keep your carbon-footprints minimal and stylish.
Circulate was founded in February 2018 by Corey Populus. Circulate is inspired by different themes, feelings, and culture of the past, present, and future while using design to get the message across. The goal is to make quality garments that will circulate among our community until the end of time. Circulate's addition to the items is clean and classic, making each piece feel as if it fits perfectly in its place.
Inez Bonilla is a graffiti artist who grew up in the Lower East Side of Manhattan. NezYorkCity originates from the nickname (Nez) the designer, and where she's from. Trendsetting music artists were the inspiration for her first collection. Inez wanted to merge the relationships between streetwear, art, and culture. Each piece is deconstructed with a moccasin stitch creating patterns that show parts of the body. With each piece carefully crafted, the brand is designed for the mavericks who don't follow the seasonal trends. Inez's approach to the collaboration is timeless and artfully constructed.
Starting his creative journey at a local Goodwill, Zack at Leapt.Cartel has since grown to dominate the DIY scene. Upcycling items and fabrics of all sorts, Leapt is known for his bold ideas transforming anything and everything into wearables. As a challenge to see what he could come up with, Zack went above-and-beyond the task of taking items shared by VICE, reconstructing the lot into a pair of pants, and an out-of-the-box idea of a button-down pull-over.
Bobby created IIInflux in 2017 as a creative way to express his personality through product. Initially started as a brand with pop-culture inspired home goods, he has since grown the brands offering to include apparel, accessories, and more. "I wanted to create a piece that spoke for the people, while speaking to the times as well!"
Born from the brain of clothier CLIVE5, Night School Math Club (NS.Mathclub) challenges the concept of design, combining personal interests and imagery across a range of ideas, cultures and mediums. Drawing inspiration from the gaming industry, the Mathclub collection is smart, collaborative, and better understood by those who think better at night.    
If you've ever looked for curated vintage in Miami there's a good chance you've come across Safe Stadick and the crew at Deep City Vintage, located within the legendary Shoe Gallery in the Heart of downtown Miami. Known for their unique approach to vintage gear, Safe's items represent a new take on VICE's familiar pieces and remixes them which gives them a Brand new vintage feel.  With matching graphics on two silhouettes, make sure to grab one to stash and one to rock through the year.
Midwest Kids is a brand that reflects the soul of creatives from our region. That same soul carries the values that were implemented in us throughout our lives, the kind we take everywhere. Spearheaded by Darryl Brown, a former stylist for Kanye West, Darryl is on a mission to keep the brand less price-competitive with his peers, and keep "straightforward, Midwest collegiate vibes." Items in the collection are hand-stenciled, adding color to the conversation.
FIND VICELAND IN STORE
(available at these stores only - until they sell out!)